Flooring Media Supplier Serving the USA, England, Scotland, Mexico, Canada & Worldwide

Ultraflex Systems, Inc. is a preferred flooring media supplier. We have all of the top-quality, high-performance flooring media your company needs to create eye-catching, detailed floor graphics that will garner attention from your target market.
Ultraflex Systems, Inc. – Your Flooring Media Supplier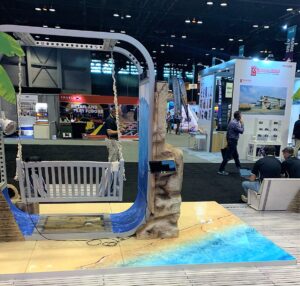 For decades, Ultraflex Systems, Inc. has been an industry leader, and we bring innovative, printable media products to the marketplace each and every year. Our expertise enables us to find the best products for our customers, and our flooring media is no exception. 
Even more so than with other printable media products, flooring media needs to be tough and durable. When you are placing your company's brand messaging, marketing campaigns, and advertisements on the floor, it's essential that the product you use can take a beating. At Ultraflex Systems, Inc., we ensure that our products are built to last and engineered to hold up under normal use. Whether you are seeking a vinyl floor media or a carpeted option, we are sure to have something that's right for you.
One of our most popular products, FloorFlex® Plus is ideal for indoor but can also be utilized outdoors for short periods. It is a printable vinyl material that is compatible with UV and Latex printers and available in widths of 78" and 124". View the technical data sheet now or read the sell sheet for more information. 
Another favorite, Floorscapes™ Clear Media was engineered to create a smooth, embossment floor media. Designed for image clarity and color precision and compatible with both solvent and UV curable digital and screen grand format printers, it can be used standalone or backed with adhesives. Floorscapes™ is also available in a clear, smooth finish or a clear, wood grain finish. For more information about Floorscapes™, download the technical data sheet or sell sheet today.
Our carpet floor graphics option, UltraCarpet® Extra, is a white, tufted-pile carpet made especially for solvent, eco-solvent, UV, screen, and Latex printing. Unlike with many other carpeted floor graphics products, the ink will not scratch off. Drying time is also minimal. Learn more about UltraCarpet® Extra.
Additional Product Lines Feature Top-Quality Printable Substrates
You'll find so much more than flooring media at Ultraflex Systems, Inc. We also stock a large supply of front-lit media, back-lit media, specialty media, textiles, and more to better serve your digital, printable media needs. 
Ultraflex Systems, Inc. is proud to serve the USA, England, Scotland, Mexico, Canada, and elsewhere worldwide, so if you are looking for a flooring media supplier or have any other printable media needs, contact us today!