Floor Graphics for Businesses in the USA, England, Scotland, Mexico, Canada & Worldwide
Floor graphics allow you to utilize the surface of your floor to display branded messaging, specialty campaigns, ongoing advertising, and more. By using all of the surfaces at your disposal, you can develop creative marketing strategies that speak to the heart of your consumers and prospects. And, at Ultraflex Systems, you can find all of the flooring and other sublimation printing materials you need for successful marketing. 
A Complete Range of Floor Graphics Media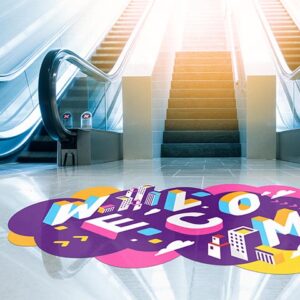 Ultraflex Systems, Inc. is proud to bring innovative new products to the market each year. We are renowned throughout the industry for being a leader in sublimation printing materials and other printable media substrates, and our flooring media line is a cut above the rest. Our customers can choose from an assortment of flooring products that will allow you to create cutting-edge campaigns that can't be missed. Our flooring media includes:
FloorFlex® Plus – Engineered with a non-slip, Latex backing, FloorFlex® Plus is ideal for use in corporate lobbies, waiting areas, foyers, catwalks, tradeshow booths, dealerships, and many other indoor locations. It can also be utilized outdoors for short periods. Its printable vinyl material is compatible with UV and Latex printers and available in widths of 78" and 124".
Floorscapes™ Clear Media – A 70 ml, 65 oz., durable, clear, vinyl floor graphic media, Floorscapes™ Clear Media was engineered for those seeking a smooth, embossment floor media to support image clarity and color precision. Ideal for brand consistency and custom graphics, Floorscapes™ is designed for both solvent and UV curable digital and screen grand format printers. It can be used standalone or backed with adhesives and is available in a clear, smooth finish or a clear, wood grain finish.
UltraCarpet® Extra – UltraCarpet® Extra is a white, tufted-pile carpet made especially for solvent, eco-solvent, UV, screen, and Latex printing. The ink will not scratch off, and drying time is minimal. Engineered for indoor, digitally printed carpet or doormats, it is available in widths from 71″-196″.
We Are More Than Floor Graphics
Ultraflex Systems, Inc. is proud to offer so much more than media for floor graphics. We have a complete inventory of nearly any digital, printable media products you could need, including:
If you are looking for top-quality floor graphics or have any other digital, printable media needs for your business in the USA, England, Scotland, Mexico, Canada, or elsewhere worldwide, contact us today for more information, to request samples, or to place an order.